Vallecitos CGA District 33
Congradition to the 4 VSpurs members slected this year for the State Show scholarship program !
Jordyn

Mackenzie

Cara

Mattie (from Last year)
Starting at our next show we will have Lunch available. If you would like to
participate

please purchase a ticket using our pay on line BBQ option. Tickets will be give at the shows.
Show Season 2018 - 2019 has started with over 43 riders on our last show!!! thank you all for coming and hope to SEE you our next show April 14!!! Looking for pictures from any of our shows please send them to Bob and we will post on the web site .
Welcome back to the V-Spurs information center!!!! We have made several changes to the web pages and hope you can take advantage of them. Thanks to all of our awesome V-Spurs riders and families for making the last year show so good! We also had lots of new members. All had a great time thanks to all for your support.
Our next show is April 26-28 setups on this is afternoon This show is a Buckle show and great prizes down to 5th place!
Ed will be serving Dinner Sat night after all runs have complete(about 6 pm) Sam will be providing lunch Sat and Sun. $6 per person can purchase on line .
🙂 Come join us!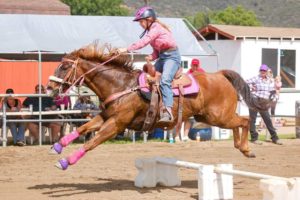 April show had 51 riders great turn out thank you all

If you were not there you missed a fun weekend. Winners are listed below are fomr the Mar show , April show will be update once I get new pink slips. End of the year standing are posted under reports.
AAA
1st Avielle /Juliet
2nd Rylee Galvin / Dallas
3rd Shannon Cannon/Dusty
4th Madison Eide/Lets Tango
5th Daniella Lombardo/Zippity-Doo-Dah
AA
1st Charla Cranor/Just My Luck
2nd Jessica Parks / Sloan
3rd Jessica Heath/Scarecrow
4th Sandra Canfeild/Sinasioux
5th Cara Watkins /Dakota Kara
A 15/under
1st Jordayn Chenal /Jessie
2nd Chelsi Redin / Sweet thing
3rd Alexandria Amato/Partner
4th Christopher Cannon/Midnight
5th Reagan Walsh/Mochalatte
A 16/Over
1st Samantha Megana/Liberty
2nd Joseph Manrique/King
3rd Jonathan Pasch/Blondie
FC 15/under
1st Loren Locke/ Poco
2nd Sophia Beckett /Solidier
3rd Cody Cannon/Little Lady
4th Kassia Rhodes/Fergie
5th Makana Boger/Reifur
FC 16/over
1st Bri Muzik /Flyingharpoon
T
The following riders were bumped up after this weekend congratlation to these riders!
Sadie Tabesh from AA to AAA

Zack Tetzlaff from FC to A
Mackenzie Chenal from A to AA
Victoria Spada from FC to A
Please Email Shannon if you would like to schedule setups
Email Shannon
Next show 2 day show for April 26-28
All events will be run , 2 mystery jack pots per day (Sat-Sun)
*Jack Pots
This content will show up directly in its container.